Structure of Nucleic Acids, Telomeres and Evolution
Présentation de l'équipe
Structures de l'ADN télomérique et interaction avec des protéines de liaison à l'ADN simple-brin par des approches in vitro
Régulation des fonctions télomériques par des approches cellulaires
---
​Team Members:
Jean-François Riou, PR Muséum (Responsable de l'équipe)
Jian-Sheng Sun, PR Muséum
Anne-Laure Guieysse-Peugeot, PR Muséum
Carole Saintomé, MC Sorbonne Université
Patrizia Alberti, MC Muséum
Laureline Roger, MC Muséum
Yves Janin, DR CNRS
Gildas Mouta Cardoso, IE Muséum
Virginie Hossard, AI Inserm
Florian Gourmelon, CDD IE Muséum
Congcong LI, Doctorante Muséum
Marianne Bechara, Doctorante MNHN
Patrick Mailliet, Chercheur Bénévole Muséum
---
​Former Members:
Chantal Trentesaux, PR Univ Reims
Anthony Bugaut, CR CNRS
Emmanuelle Delagoutte, CR CNRS
Aïcha Boumelha, CNAM école Ingénieure
Coralie Modeste, IE-CDD
Delphine Trochet, Post Doc
Xénia Mergui, Post Doc
Jean Chatain, M2, PhD student
Pauline Lejault, PhD student
Gabriel Le Berre, M2, PhD student
Angélique Pipier, Master and PhD student
Frédéric Thiébaut, PhD student
Layal Safa, M2, PhD Student
Assitan Sidibe, PhD student
Najah Mizouri, PhD student
---
​Structures de l'ADN télomérique et interaction avec des protéines de liaison à l'ADN simple-brin par des approches in vitro
---
​Régulation des fonctions télomériques par des approches cellulaires
---
Generalizing and improving the use of enhanced bioluminescent reporting systems
---
​
Illustrations of the different themes of the team
Image
Image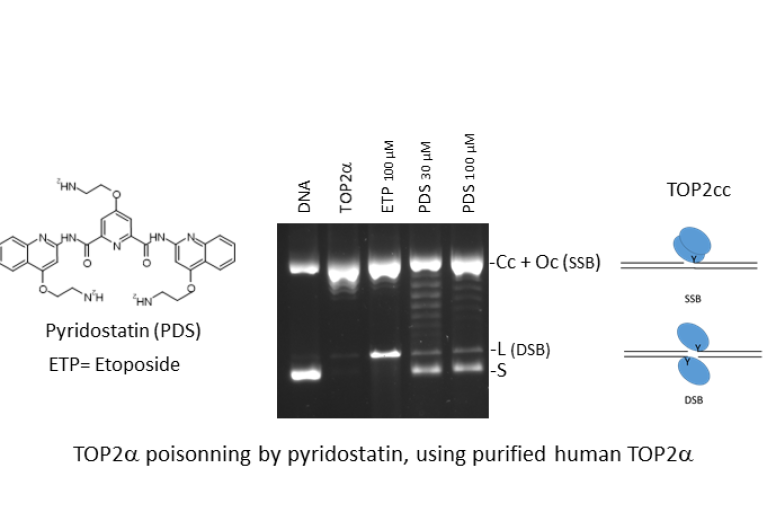 Image
Image
Credits
©C.Trentesaux, JF.Riou
Image
Credits
©P.Mailliet, G.Mouta-Cardoso, P.Lejault
Image
Credits
©D.Trochet, JF.Riou
---
​Main collaborations
Fabienne Aujard & Jeremy Terrien, MECADEV, MNHN CNRS, Brunoy
Stéphane Coulon, Centre de Recherche en Cancérologie de Marseille Dennis Gomez & Sebastien Britton, Institut de Pharmacologie et de Biologie Structurale, CNRS, Toulouse
Eric Defrancq & Olivier Lavergne, DCIM, Université de Grenoble-Alpes, CNRS, Grenoble
Anton Granzhan & Marie-Paule Teulade-Fichou, Institut Curie, Orsay
Caroline Kannengiesser, CHU Bichat, Paris
Arturo Londono-Vallejo, Institut Curie, Paris
Jean-Louis Mergny, Ecole Polytechnique, Palaiseau
Marc Nadal & Terence Strick, Ecole Normale Supérieure, Paris
Marie-Noelle Prioleau, Institut Jacques Monod, CNRS, Paris
Patrick Revy, Institut Imagine, Paris
Raphael Rodriguez, Institut Curie, Paris
---
Selected publications:
Bossaert M*, Pipier A*, Riou J-F, Noirot C, Nguyen L-T, Serre R-F, Bouchez O, Defrancq E, Calsou P, Britton S, Gomez D. Transcription-associated topoisomerase 2a (TOP2A) activity is a major effector of cytotoxicity induced by G-quadruplex ligands. eLife. 2021; 10: e65184.
Bugaut A, Alberti P. Understanding the stability of DNA G-quadruplex units in long human telomeric strands. Biochimie. 2015; 113:125-33.
Chatain J, Blond A, Phan AT, Saintomé C, Alberti P. GGGCTA repeats can fold into hairpins poorly unfolded by Replication Protein A: a possible origin of the length-dependent instability of GGGCTA variant repeats in human telomeres. Nucleic Acids Res. 2021; in press.
Hwang IP, Mailliet P, Hossard V, Riou JF, Bugaut A, Roger L. Investigating the Effect of Mono- and Dimeric 360A G-Quadruplex Ligands on Telomere Stability by Single Telomere Length Analysis (STELA). Molecules. 2019; 24(3):577.
Lancrey A, Safa L, Chatain J, Delagoutte E, Riou JF, Alberti P, Saintomé C. The binding efficiency of RPA to telomeric G-strands folded into contiguous G-quadruplexes is independent of the number of G4 units. Biochimie. 2018; 146:68-72.
Le Berre G, Hossard V, Riou JF, Guieysse-Peugeot AL. Repression of TERRA Expression by Subtelomeric DNA Methylation Is Dependent on NRF1 Binding. Int J Mol Sci. 2019;20(11):2791.
Lejault P. Ligands de la jonction double-brin/simple-brin de l'ADN télomérique comme sondes moléculaires pour étudier la biologie des télomères. PhD Thesis, ED 227 MNHN, 20 Nov 2017.
Pipier A, Devaux A, lavergne T, Adrait A, Couté Y, Britton S, Calsou P, Riou J-F, Defrancq E, Gomez D. Constrained G4 structures unveil topology specificity of known and new G4 binding proteins. Scientific Report. 2021; 11:13469
Subecz C, Sun JS, Roger L. Effect of DNA repair inhibitor AsiDNA on the incidence of telomere fusion in crisis. Hum Mol Genet. 2021; 30(3-4):172-181.
Trochet D, Mergui X, Ivkovic I, Porreca RM, Gerbault-Seureau M, Sidibe A, Richard F, Londono-Vallejo A, Perret M, Aujard F, Riou JF. Telomere regulation during ageing and tumorigenesis of the grey mouse lemur. Biochimie. 2015; 113:100-10.
Published on: 14/06/2021 17:23 - Updated on: 14/09/2023 11:58